Manufactured without "cutting corners."
SALO® Solar Panels are made with a state of the art fully automated production line at our factory site in Salo. The panels are tested multiple times during the production process to ensure their quality and durability.
We differ ourselves from competitors by letting robots do all the hard work Our operators merely ensure that the machines work efficiently and produce high quality products.
We trust in the quality of SALO® Solar Panels and grant all our models a 25-year linear power production warranty.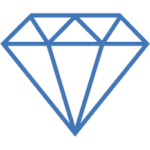 The glass available in SALO® Solar panels is always of high quality and dirt-repellent. Therefore, there is no need to look for panel cleaning and the production of electricity is optimally desired independent.
Required SALO® Solar panels, also selected with anti-reflection glass. The special coating of the glass hides light rays inside the panel, improves its electrical productivity and, if desired, reduces harmful reflections.
High efficiency silicon cells
In SALO® Solar Panels we only use PV cells made from high quality silicon. Since energy yield and durability change depending on the cell manufacturer, we choose our material suppliers through a meticulous multi-phase audit process.
We use modern PERC PV cells to get a better energy yield than you would with traditional cells.
Our frames are made from top quality aluminium by our Finnish supplier. High quality frame material gives our panels the stiffness and durability to last under heavy snow loads and strong winds.
The frames are attached by a robot and to ensure a durable and seamless structure we only use two-component adhesive. Two-component adhesive is stronger than one-component and it insulates the edges of the panels preventing moisture from accessing the structure.
We use high grade Finnish made conductor ribbons and busbars with a copper content of over 80%.
Copper based conductor material is quite "soft" and therefore can withstand more bending and pressure compared to aluminium or lead based conductors. This in turn significantly reduces the risk of cell breakage in the panels. Copper is also a better conductive material than lead or aluminium for example.
The connectors used in SALO® Solar Panels are high quality standard MC4 connectors with an IP67 rating.
One of the corner stones of SALO® Solar Panels is the high-quality German film material which, thanks to its three-layer structure offers an excellent moisture and electrical insulation.
The core and outer layers of the back sheet film are hydrolytically stable even in high temperatures and the thicker core layer provides durable mechanical properties for the film. The critical cell side layer of the film is UV protected which helps to prevent the harmful effects of UV radiation and prolongs the lifetime of the whole panel.
For the encapsulation of the silicon cells and conductors we use only the most popular and highest quality materials that are designed to maximize the power and durability of the panels.
The encapsulation material is PID resistant which contributes to the longevity of SALO® Solar Panels.
Unlike with many competitive brands, SALO® Solar Panels have a junction box that has not been filled with potting agent. Therefore, in case of a diode malfunction the lid that can be opened and the diode changed.
In many other products the junction box is potted with silicone or similar. If a diode malfunction should arise, the whole solar panel would have to be changed causing extra cost and needless waste. In SALO® Solar Panels the cost and waste have been minimized and our junction boxes are still IP67 rated.
Watch the embedded video of how SALO® Solar Panels are made.
SALO® – Solar Panels photovoltaic modules are manufactured according to certified management system fulfilling the demands of ISO 9001, 14001 and 45001. Our management system is verified by Bureau Veritas Certification.